Like many men and women before me, my first experience with leadership was in team sports. I've been playing soccer since I was a little girl. Through it, I learned discipline, resilience, organization, and how to strive for the common good. When I became captain of the female soccer team at my university, I learned the power my title carried. A simple act or word from me could influence my teammates in a variety of ways, both positive and negative. 
Despite this experience, when I was offered the job of Lead Data Analyst at Hakkoda, it was my leadership skills that made me hesitate. I felt confident from a technical perspective, but personally, I wasn't sure I had what it took to be a leader–that thing I'd built up in my head as something foreign and unsuited to my skill set. Despite my doubts, my manager, Allan Alfaro, insisted I take the position. It was after talking with him that I began thinking about what leadership meant to me, and the many different shapes the role of leader can take. 
In my case, I've always cared for other people. I celebrate their successes and accompany them in their defeats. I'm passionate about proposing new ideas and doing everything in my power to make them a reality. I go after my dreams and goals instead of waiting around with my arms crossed. When nobody else wants to take initiative, I do, and I have led many successful projects in previous roles. Today, I would tell you that these are all the qualities of a great leader. So why, when offered a leadership position, was I so hesitant? And if I hadn't had supportive colleagues cheering me on, would I have had the confidence to take the role in the first place? 
Despite an abundance of talented women in the world, female leadership in tech is still relatively uncommon. As of 2023, just 10% of C-suite roles at Fortune 500 companies are filled by women. At the next level down, the percentage of women leaders has actually decreased since 2019, from 18% to 13%. All this, despite numerous studies pointing to the tangible benefits of hiring female leaders. To understand what holds back women in data, I took a look at the arguments for why companies should empower female leaders, alongside the experiences of my female coworkers at a company that has made finding, supporting, and promoting talented women a priority.  
What Studies Say About Female Leadership
There have been two interesting studies from the Harvard Business Review in which they assessed how female leaders were perceived in comparison to male leaders. In the first study, back in June 2019, researchers from the U.S performed a 360-degree assessment including over 60,000 leaders in which they measured the overall effectiveness rating of males and females on 49 leadership competencies. 
From the results, women were thought to be more effective in 84% of the competencies measured. They excelled in taking initiative, acting with resilience and displaying high integrity and honesty. However, when they were asked to evaluate themselves, they showed a lack of confidence in their capabilities, especially at early stages in their career. 
In the second study, published in December 2020, researchers from the U.S assessed if women are better leaders during a crisis. What makes this study different from the previous one is that researchers gathered similar data during the COVID-19 pandemic. The study indicated that women were rated significantly more positively than men on most competencies assessed. In fact, the gap between men and women in the pandemic increased, indicating that women do tend to perform better during a crisis. 
Although studies have proven that women are highly competent leaders, they continue to receive fewer opportunities than their male counterparts, mainly due to gender biases and stereotypes. 
As a matter of fact, it has been shown that unconscious bias, namely, the belief that women don't belong in senior level positions, interferes with hiring and promotion decisions, and contributes to the small number of women in key positions. Only 6.4% of S&P 500 CEOs are women. Clearly, women in data are facing an industry wide pitfall – one that an abundance of competence, talent, and grit simply isn't enough to overcome. For more women to succeed in tech, and for companies to reap the benefits of powerful female leaders, organizations will need to be proactive about engaging, encouraging, and creating opportunities for their female employees.
The Perspective of Powerful Women Leaders 
At Hakkoda, I found a team of people dedicated to elevating the voices of women. We have outstanding female representatives in our leadership team, specializing in areas such as finance, human resources, machine learning, project management, and much more. To understand Hakkoda's success at empowering women leaders, I turned to the experiences of my female colleagues. 
Most of the women I spoke to described good leadership as something that transcends gender stereotypes and expectations. Each female leader I spoke to was confident, capable, and aware of the value she contributes to a team. For some, the idea of leadership being associated with gender was actively contrary to their mindset. As Dana George, a fellow Lead Data Analyst said, "I want to be recognized for what I bring to the table and not waste even one thought on my gender." 
If being female didn't actively factor into the mindset of my fellow women leaders, I wondered if there was some commonality in the path they took to achieve their success. For Amy Burhorn, Head of Finance at Hakkoda, the path to leadership was lined with work and results, putting in the time to prove her capability. But equally important for her was being a reliable team player, developing trust with her managers and coworkers. 
For Kim Heger, Chief Talent, Culture, and Wellness Warrior, it was the relationships she built along the way that made the biggest difference to her success. The decision to surround herself with positive people, building trust, and supporting her community led her to where she is today. 
When asked to share advice for women hoping to enter a leadership position, Kim and Amy shared similar perspectives. Kim believes that you have to get comfortable with being uncomfortable. Whenever you step outside of your comfort zone, you will naturally develop new skills and confidence in yourself. And Amy agrees; she always says to her daughter that confidence is the key. While, for Dana, if you are a person who loves the field in which you are, you will succeed. 
Confidence, the exact struggle I faced at the start of my journey with Hakkoda, was key for all three women, as was a supportive community. These are also the values at Hakkoda that have allowed me and my fellow female leaders to succeed.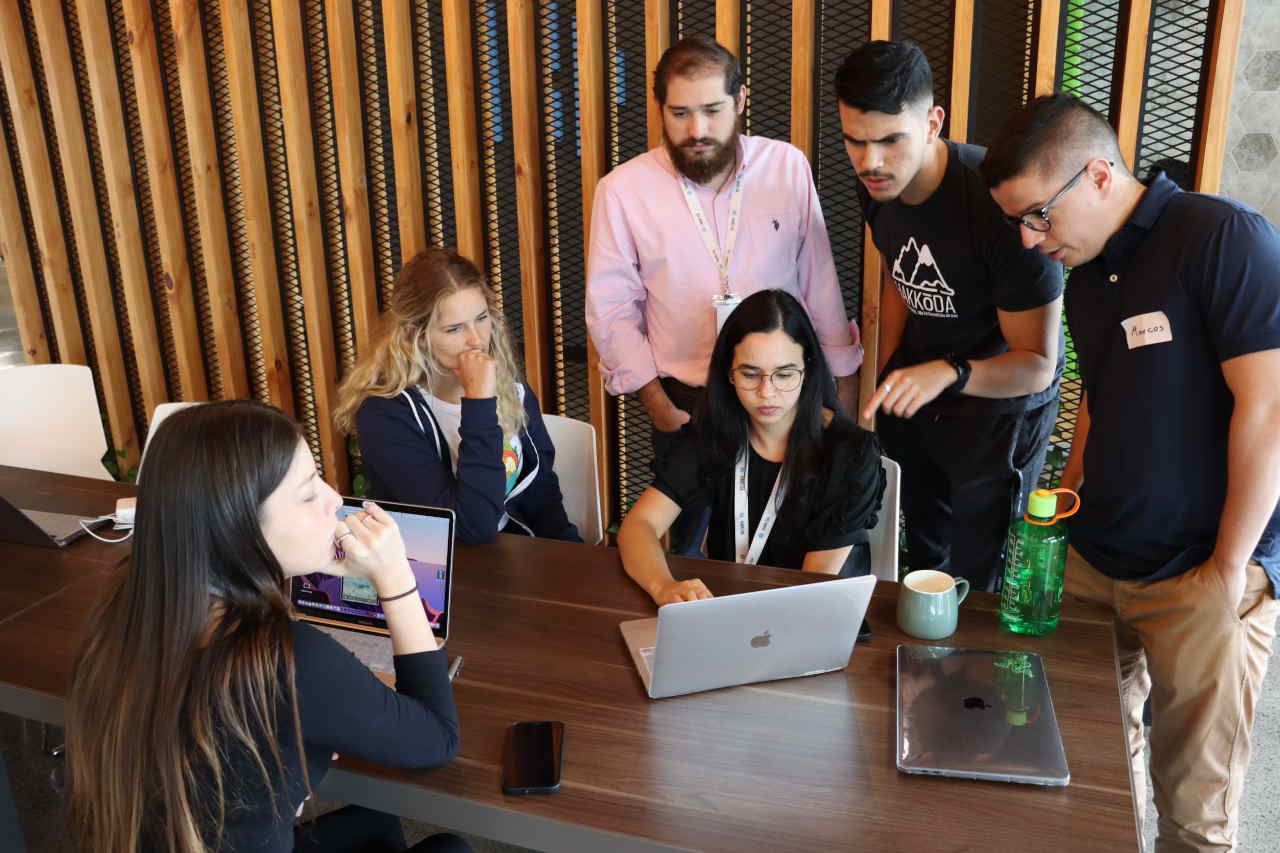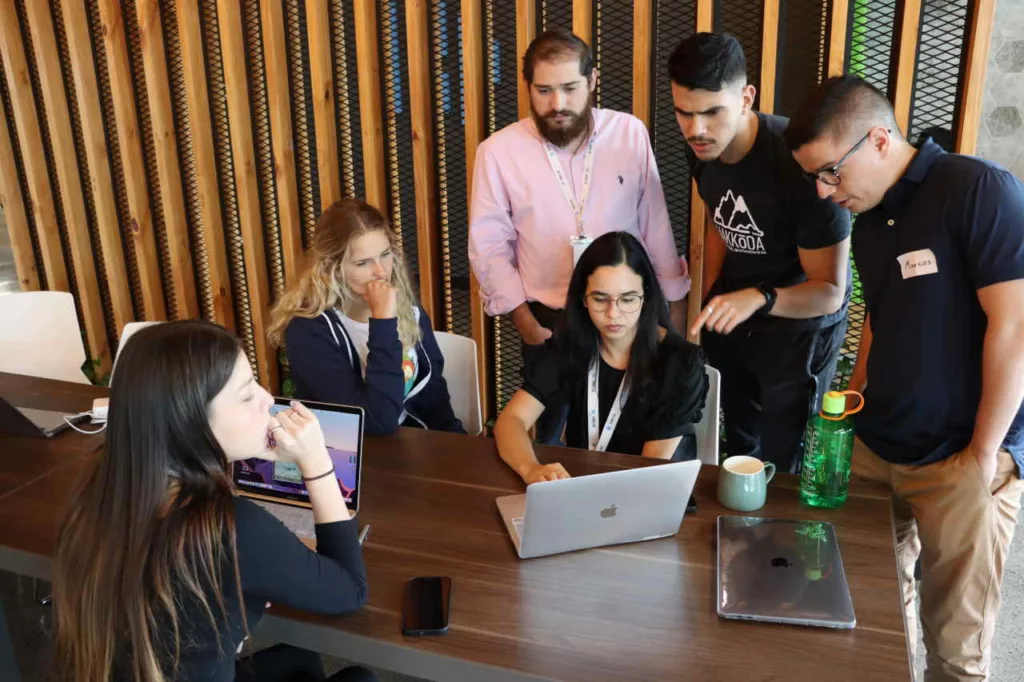 Hakkoda's Leadership Vision and Support
Hakkoda is a company that believes and encourages leadership occurring at all levels of an organization, regardless of the gender, religion, race, or any other social identity. At Hakkoda, a true leader is capable of influencing and inspiring others to act. 
More precisely, Erik Duffield, CEO of Hakkoda, says  "leadership can be an innate quality, this is rare and often raw when it comes naturally. Mostly, leadership is learned, often through observation and mentorship." He believes that leadership requires influence, which is in turn created by empathy and vision. "It's as much about the pathway as the destination," Erik says.  To him, great leaders are often good followers. In order to get someone to follow, you have to be able to vividly describe where you are headed while also acknowledging where people are.
Like Erik, I also believe that a good leader must have empathy, listening skills, vision and conviction – all qualities I believe the Hakkoda leadership team embodies. As my coworker, Chris Puuri, Director of Data Engineering put it: "It's plainly obvious that they care about us as individuals, our lives and our families…not only as employees."
Hakkoda is an organization that not only allows, but actively encourages women in data to believe in themselves. To continue contributing to this culture, I'm personally committed to giving back what my manager gave me at the start of my first leadership role: confidence, community, and opportunity.
At the end, what we all aspire to at Hakkoda is building a team that lives by our values: people first, trust is everything, live life, stay curious and be the change. 
Being A Leader, the Next Steps
As a leader in Hakkoda, my main objective is to inspire others, motivating them to take risks and believe in themselves. I want to help people get rid of the fear that sometimes immobilizes us, challenging everyone to go out and try new things. I believe that the worst attempt is the one you haven't made.
I want to encourage girls from all over the world to believe they are worthy of a leadership position. I strongly believe that catering to the human aspect is key for a leader to be successful. By using our strong interpersonal skills, caring truly for others, and taking the time to listen, we can bring forward a new definition of leadership, one that allows us to create a deeper connection with our coworkers.
From one female leader to another, my advice is to believe in yourself and your capabilities, prove your value through hard work, and step up to the playing field. If you can, find an organization that believes in these values along with you and works actively, not just passively, to empower women in data.