Coalesce 2023 San Diego, hosted by dbt Labs, marked a significant occasion for the data engineering and analytics community, bringing together industry leaders, experts, and enthusiasts from around the world to share their knowledge, experience, and best practices. While session topics ran a wide gamut across the entire modern data landscape, complexity and scalability were at the thematic center of this year's conversation, with dbt Labs showcasing a list of new features and solutions built with these pillars—and the challenges they present—in mind. In the success stories presented during the day's sessions, another common theme emerged: the advantages of a centralized Data Warehouse Architecture, which can be leveraged to streamline business operations and empower organizations at scale. 
This article will act as introductory course to the benefits of a Data Warehouse Centric strategy while explaining how this strategy translates directly into improved business outcomes. Later on, it will also cover some of the most exciting new dbt features showcased at Coalesce while explaining how they can help organizations centralize Data Warehouse Architectures of their own in Snowflake.
The Benefits of a Centralized Data Warehouse Architecture
Data Warehouse Centric Architecture redefines how organizations approach their data strategy. It revolves around centralizing data storage and processing within a data warehouse, creating a unified hub for all relevant information. This architecture goes beyond mere convenience; it's a strategic move that unlocks a spectrum of advantages for modern businesses. These advantages include: 
Unified Data Accessibility. The centralization achieved by Data Warehouse Centric Architecture eliminates the chaos of siloed data found in traditional IT architecture. It establishes a single source of truth accessible to all teams and departments, ensuring that everyone operates with consistent and up-to-date information, fostering collaboration and alignment.
 
Enhanced Data Quality and Accuracy. With a centralized data warehouse, it becomes easier to uphold data integrity and reduce errors. Organizations can make decisions based on reliable information, laying a robust foundation for strategic initiatives.


Improved Decision-Making. By consolidating data, organizations can conduct comprehensive analyses, derive actionable insights, and make strategic decisions faster. This agility in decision-making is particularly crucial in navigating the complexities of today's business environment.


Scalability and Flexibility. As businesses evolve, so do their data needs. Data Warehouse Centric Architecture offers scalability and flexibility, allowing seamless adaptation to changing requirements. Whether dealing with increased data volumes or integrating new sources, the architecture grows with the organization, ensuring sustained efficiency.


Streamlined Data Governance. Centralized data storage simplifies the implementation of robust data governance practices. Organizations can enforce standards, security protocols, and compliance measures effectively. This centralized approach not only mitigates risks but also ensures a structured and governed data environment.


Cost Efficiency. While an initial investment is required, Data Warehouse Centric Architecture will contribute significantly to a company's long-term cost efficiency. This approach to data architecture reduces redundancy, simplifies maintenance, and optimizes resource utilization. In the grand scheme, this translates to lower operational costs and a higher return on investment than traditional IT architectures.


Headless BI.

Data Warehouse Centric Architectures allow organizations to move to a Headless Business Intelligence (BI) approach. Unlike traditional BI systems with fixed, user-facing interfaces, headless BI decouples the presentation layer from the underlying analytics engine and prioritizes flexibility and integration. A dynamic and harmonized Semantic Layer anchored around a standard Date Spine drives consistent insights and business value once established. This empowers businesses to deliver a cohesive and customized analytics experience to end-users and to foster greater accessibility and usability across diverse platforms and applications.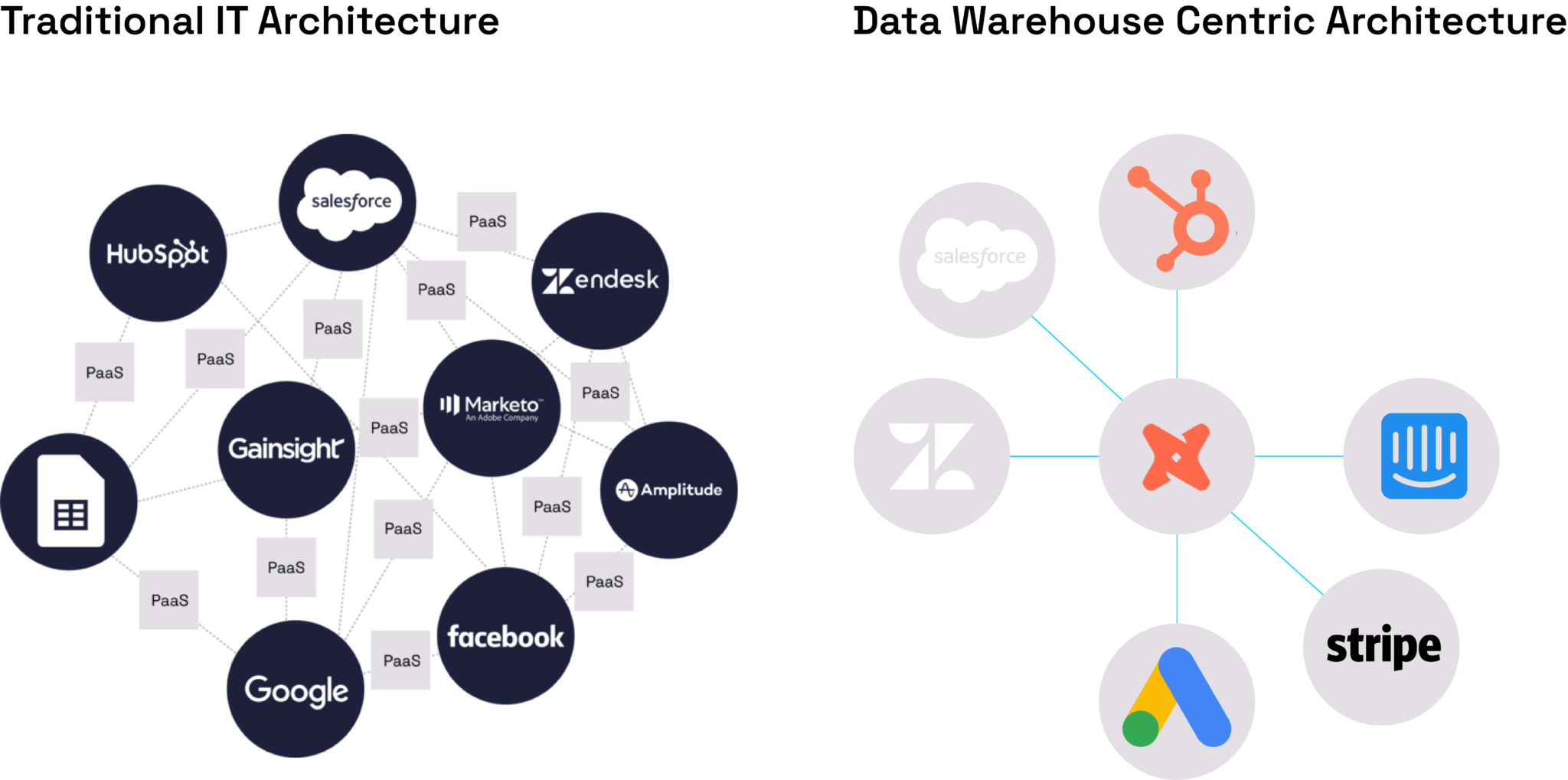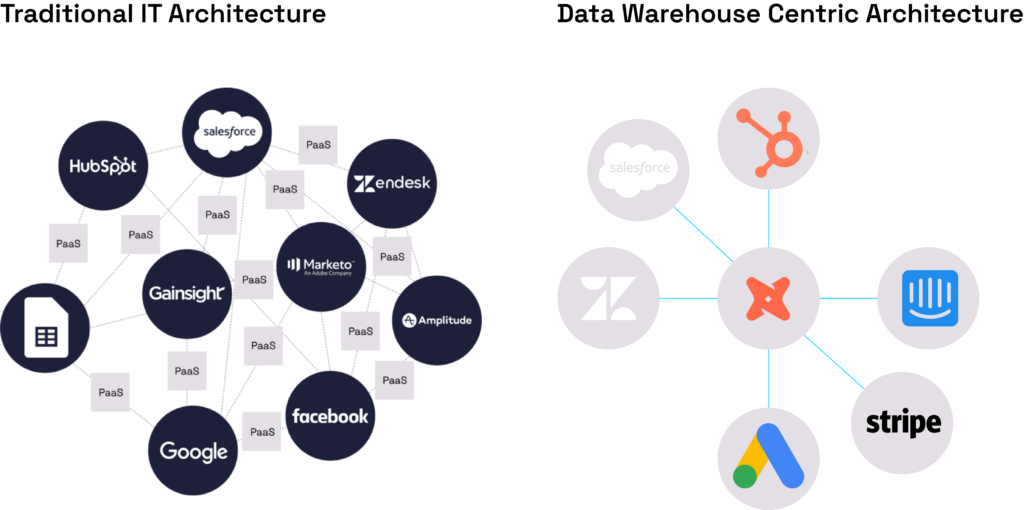 How dbt Mesh, dbt Semantic Layer, and dbt CLI Enable a Data Warehouse Architecture Approach
The emphasis on Data Warehouse Centric Architecture at Coalesce 2023 was supported by a host of updates, features, and solutions from dbt Labs. Chief among them, the introduction of dbt Mesh and the GA release of Semantic Layer underscore the commitment of dbt Labs and their partners to ease the complexities of organization-wide data management. 
dbt Mesh allows domain teams control over their data pipelines while maintaining global standards for governance. By using multi-project reference, dbt Mesh empowers teams to track dependencies while fostering collaboration within Snowflake, which acts as a centralized data environment that is also independent across domains. By using dbt contracts, teams will better understand upcoming changes and disruptions in their pipelines, while dbt Explorer can be used to output all this information in a digestible format readable by key stakeholders, data engineers and analytics engineers alike. This enables more robust governance across all levels of the organization.
dbt Semantic Layer, meanwhile, offers a standardized, governed approach to data analysis and reporting centered on a reliable set of metrics with a single source of truth. A Semantic Layer acts as a centralized and standardized representation of data structures and business logic that, in turn, enables collaboration, improves data quality, and enhances the efficiency of data teams, leading to better insights and decision-making. Returning to the concept of a Headless BI, dbt Semantic Layer also offers the flexibility of being used on multiple BI tools like  Mode, Hex, Tableau–and soon, Sigma. A GA release means that this feature has reached the "general availability" stage, indicating that it is considered stable, reliable, and ready for widespread use.
Finally, dbt Labs also announced the Public Preview for the new dbt Cloud CLI, which will allow developers to leverage dbt Cloud capabilities alongside their preferred IDE, including VsCode and Terminal. With these new features in mind, dbt is no longer only the place for Data Engineers and analytics engineers to develop, test, and deploy new changes, but is also slowly becoming a place for data scientists to build and release ML models using Jupyter Notebooks and an intelligent sandbox environment. This has powerful implications for organizations looking to unify their data strategy with a data warehouse like Snowflake at the center, by providing a one-stop shop for entire data teams to move through development, testing, and deployment cycles. Furthermore, by harvesting the fast computing power of Snowpark to store, utilize, and manage ML models, data teams can execute these models even faster.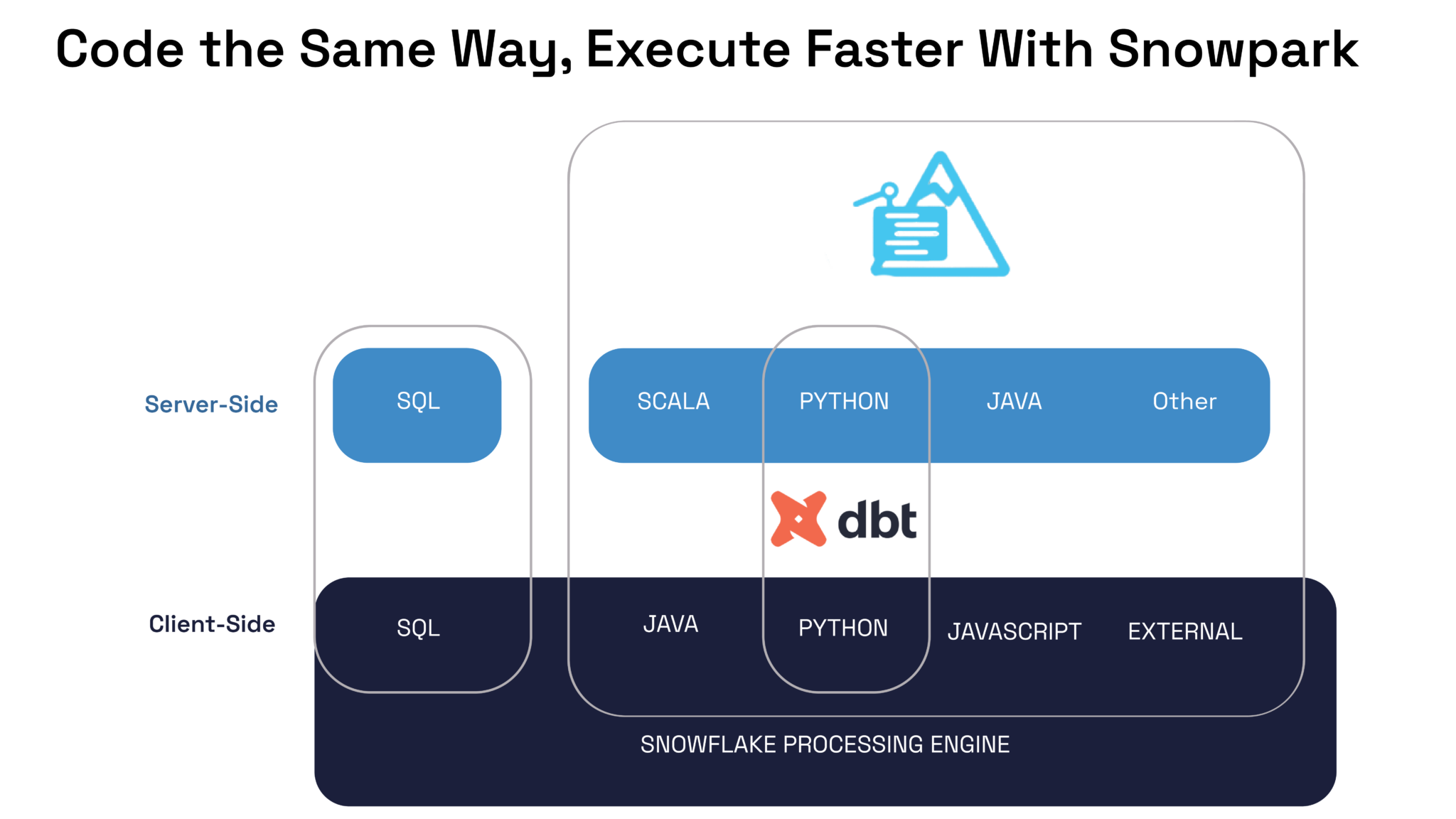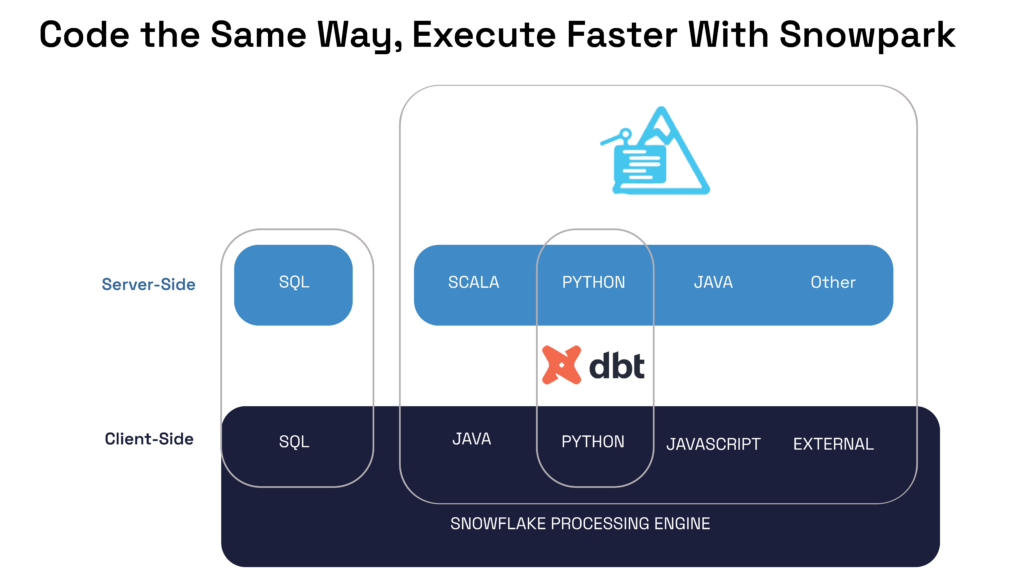 Each of the major features above contributes to the creation of a centralized source of truth, which in turn ensures that data transformation closely mirrors real business processes. This approach benefits not just data teams but entire organizations of non-technical users, and aligns with dbt's current vision for empowering organizations focused on data transformation.
Smarter Data Architecture with Hakkoda and dbt
Hakkoda's teams of SnowPro-certified data professionals bring robust data expertise together with deep experience in highly regulated industries to construct cutting-edge, future-proofed solutions that help you meet your organization's key business objectives, whatever they may be.
Our services are designed to meet you where you are in your data innovation journey, leveraging the right tools and services from across the modern data stack to help you tap into your data's latent potential. We work closely with industry leaders, like our partners at dbt Labs, to carry out best-in-breed data transformations that scale with your business's increasingly complex data requirements while streamlining day-to-day operations.

Ready to explore what a Data Warehouse Architecture approach can do for you? Let's talk.