What does the mountain teach us? Why climb in the first place? And why join Hakkoda? Not simply because we can, but because we must…
At about 3am on August 5, 2021, I found myself roped to three other people, in a group totaling nine, climbing in long, quiet stretches. The only sounds coming from the rhythm of my crampons and boots with each step, followed by my ice axe – piercing into the glacier to break the silence. At that point, our group of climbers, guided by RMI – Rainier Mountaineering Inc, was at approximately 13,000 feet in altitude on the Emmons Glacier, exhausted to be sure but beginning to contemplate that the 14,410 ft summit of Mount Rainier was within our grasp. Times like that dark, cold, quiet march in my brief, but passionate, experience with mountain climbing give me time to think. About life in general, success and failure, or even a little existential contemplation about my career.
At this particular moment, in the dark early morning hours, sweating in temperatures below freezing, my time to think was solely dedicated to the unique juxtaposition of two interesting and concurrent life events: leaving a Big Four accounting/consulting firm to help co-found Hakkoda—a firm that will ignite the power of data to change enterprises and impact the world— and climbing Mount Rainier—the most technical and glaciated peak in the lower 48 contiguous United States. When speaking to family, friends, co-workers, and business associates about either of those two endeavors, invariably the first question they ask is "why?" I think the answer to both is similar.
Learning From the Mountain Top
Most driven business people learn to play golf, go sailing, or play the guitar, and by most estimates, the 40-something age bracket may seem a bit late in life to find a passion for something as implausible as technical mountaineering. But I've always had a bit of an adventurous side, as well as a healthy appetite for learning something new. So in 2017 when a former colleague from Appirio, Greg Smith, and I were talking about our passions outside of work and he mentioned climbing mountains, I was a little shocked and surprised to hear myself say "I wanna try that sometime!"
After summit success in July of 2018 on Mount Baker, a nice entry-level glaciated stratovolcano in northern Washington state, and a non-success (we abandoned the summit attempt in snow, high winds, and limited visibility) in May of 2019 on California's Mount Shasta, Greg and I committed to two slots with RMI for a three-day guided expedition of Mount Rainier in late July of 2020. After a one year, Covid-induced delay and having run up and down thousands of steps at the local local high school football stadium in Milton, Georgia where I live, I found myself at RMI basecamp in Ashford, Washington on August 2, 2021, with Greg, seven other climbers, and two guides I had just met, preparing to make a run at Rainier. Needless to say, I was excited and nervous at the same time.
Meanwhile, I had also just made the decision to leave a Big Four firm and a successful cloud consulting practice to help start Hakkoda, at our origin a firm prepared to help others harness data to make positive impacts. After a career in other software and services ecosystems, and with an established industry leader, staying put would have continued to yield nice results for my employer, myself, and my family.
So back to the obvious question applying to both: why do this? In any life endeavor, generally, I tend to borrow a page from Theodore Roosevelt and the Man in the Arena. Better to leverage all one has in terms of courage, skills, effort, and intellect to dare to achieve greatly—and while even possibly falling short, finding more fulfilment that not having tried at all.
The Simplest Reason
In 1924 when English climber George Mallory, believed to be the first man to summit Everest, but who died on the way down, was asked why he was drawn to Everest, he famously replied "because it's there." Too simple, but beautiful at the same time. I believe he intended to invoke all the basic things that make us human—that we must try, that we succeed or fail, that we contribute to the community and natural world around us to feel alive. I believe all of these are inherent in mountaineering, as they are in any new business venture. We all extend effort into endeavors big and small everyday, and learn collectively from them.
With something like mountain climbing—I believe that if we are able and the mountains are accessible to us—it's actually a shame not to. The mountains are such an amazing place, hold so much beauty, and there is so much to be learned I almost feel as though any risk for me is to live life having not gone into the backcountry to experience what it has to offer.
Having gone into the backcountry with and without guides—and having had such wonderful success recently on Rainier with guides—it's easy to draw the comparison. At Hakkoda we guide our clients on all or parts of their journey through the data maturity model. Whether they are novice organizations just beginning to make sense of chaos, or moving towards organizing, automating, and democratizing data to make decisions, success comes easier with a guide! At Hakkoda we feel so passionately about this journey, we didn't just want to start this company, we simply had to.
If the first question is invariably "why?," the next one is always "how?" How do you prepare to make such a career move? How do you train physically and perhaps more importantly mentally, to climb big mountains?
Preparing for the How
No one hops off the couch and goes straight to the summit of Mount Rainier, much less an 8,000-meter peak in the Himalaya. The strongest correlation to ultimate success are preparation, gear, and the right guide or route plan. A well thought out physical conditioning plan, a few trips to REI, and a reservation with RMI might prepare you for a mountain trip (with the choice of which peak to tackle first of paramount importance).
This is similar to my thought process in deciding to join Hakkoda as co-founder. A career spent gaining relevant experience is one thing, but an emotional and cultural commitment to my employer is particularly important. At Hakkoda, this is manifested in our core values: putting people first, earning the trust of our customers and team, an ongoing commitment to lifelong learning and curiosity, and exemplifying the change we want to see in the world.
Some of the key answers to "how" are:
Proper Planning and Preparation
A solid and realistic plan needs to be developed to prepare. For example, in order to successfully summit Rainier, I started with a comprehensive training plan and a long-term commitment to the outcome. This doesn't stop with a training plan, it also includes diet and possible acclimatization work. The timeline begins 6-12 months in advance, not unlike a commitment to a shift in career path.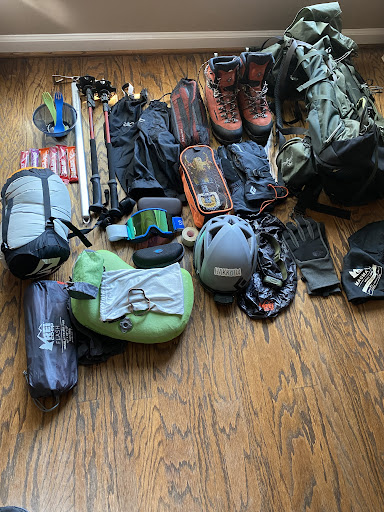 Equipment and Gear
While ascending Rainier, about an hour out of the parking lot at Paradise Lodge where the hike begins in the snowfields, two 20-somethings in shorts and tank tops with nothing more than sneakers, iPhones, and a couple bottles of water blew past our team on the way up. About 3 hours later, as we were milling around Camp Muir, preparing some food and getting ready to try and nap before our summit attempt, I noticed the two of them taking in the views and snapping pictures.
About 5 minutes later one of them was busily wrapping a black garbage bag around his midsection about 20 feet from where I was standing. I couldn't resist my curiosity, so I walked over and asked what his plan was. He said he was preparing to glissade down the Muir snowfields on a Hefty bag, hoping to make it back to their car in the parking lot before dark. Needless to say, I think his chances might have been 50/50 in that endeavor, but I was relieved that the two of them weren't planning to go any higher without proper equipment and without much of a plan. The same thinking applies elsewhere of course.
Guides
Famous mountaineering solo ascents notwithstanding, most of us mortals increase our chances of success with a guide. On Mount Rainier, about 60% of guided clients make the summit [and of course successfully make it a safe, roundtrip], versus 45% of unguided/independent climbers making the summit. So while experienced mountaineers certainly can be successful on their own, why wouldn't you increase your chances of success by a wide margin?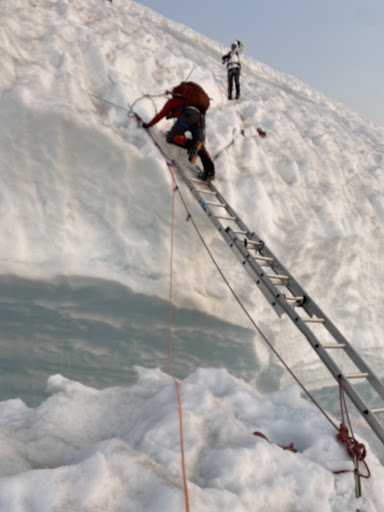 Lessons
So what can we learn in the mountains that can be applied to a business venture, or other things in life? Whether it's the perspective that can be gained from a closer proximity to the awe-inspiring natural world, what we can learn individually from pushing ourselves mentally and physically, or even just embracing the fact that we have the ability to free ourselves from a few days of Zoom calls and get some fresh air, there are many lessons. I believe a few are most important:
Mountaineering is a "long game." Rarely does something take so much time, energy, focus, preparation, and dedication to yield results that seem so fleeting. Even those who are lucky enough to make a living in the mountains spend relatively small amounts of time climbing and summiting peaks. Rather, they are much more likely to be found in a gym on a stairclimber, or in my case, running up and down stairs in a local parking deck to prepare. Another example of this is the literally years-long pursuit of a goal. Perhaps the mountaineer I admire most is Ed Viesturs, the only American and one of just a handful of people ever to summit all fourteen 8,000 meter peaks on earth, all without the use of supplemental oxygen. That was a goal he called Endeavor 8000—and was an 18-year project. In our current culture, I can think of very few people who are setting goals that have 18-month timelines, much less 18 years. This is analogous to joining Hakkoda – success will be measured in accomplishments big and small, and near and longer term. We value the impact we will make on our community, our clients, and our associates daily, and we believe that impact will be lasting. I've had transformative experiences in past places of work and in past interactions in business and partnership relationships, some of which I didn't even realize would be life-shaping at the time. Patience and persistence must be applied.
Discipline in working as a team and 100% trust in the team is imperative. On Mount Rainier, there were nine of us climbers who first met each other Monday afternoon at 3pm. On Thursday morning at 5am, six of us and two of our guides were standing on the summit. This would simply not be possible without the strict adherence to safety, as well as tactical and procedural discipline in the process. That includes the three climbers who were honest with themselves and the rest of the team and guides when they knew they needed to abandon their summit attempt. One went no higher than Camp Muir and two others turned back at around 2 am at the top of the Disappointment Cleaver at 12,300 feet in altitude, roughly 2,000 feet below the summit. This is a major checkpoint for climbers and guides insist on a very honest self assessment in order to keep going. Making the right decision at that point is by no means an individual one – but one that significantly impacts the team.It's not uncommon for climbers to have tunnel vision when chasing a singular goal like topping out on Mount Rainier, or any other climb. Whether at the top of the Disappointment Cleaver, or even at a high camp on an 8000-meter peak in the Himalaya, a climber wanting summit glory might lack the ability to exercise good judgement. Add the fact that each climber is harnessed and roped to the rest of the team, and potential repercussions multiply. At Hakkoda our team is stronger because we are different, but similar to a rope team on a glacier, we all have an unwavering commitment to our core values and shared outcome are fundamental.
The process necessitates what I call learning to be comfortable with being uncomfortable. Walking up snowfields for ~5,500 feet gain in altitude, taking a short, and likely sleepless, nap, then strapping knife-sharp crampons on your boots and walking up another ~4,500 feet through a maze of rocks and crevasse-riddled glaciers in the dark is not normal. To say nothing of the 9,000 foot descent and relentless 9-hour assault on your quadriceps on the way down! However, to be successful, which means a safe roundtrip, you have to love the process.This is absolutely one of the things I grappled with in joining Hakkoda, or any new venture, and I think most people don't do it enough. We can't know how every journey is going to end when it begins. We cannot grow if we choose only to stay comfortable.
In terms of launching Hakkoda, I spent hours with family and friends, and a few very close mentors, taking inventory of values, goals, and expectations in order to make the right decision, and then commit. I arrived at a place where I could reconcile uncertainty with outcomes, but not the potential regret of not having committed to the effort.
We started Hakkoda, and I will continue to push into the mountains at higher and higher altitudes, not out of want, but out of necessity. We do it deliberately, and with preparation, thought, and planning, but we also begin without knowing exactly what every step of the climb looks like. To borrow from the great American naturalist and essayist John Burroughs, "leap, and the net will appear."
You don't have to climb big mountains, but if you believe in new ideas and technologies, in getting outside yourself to invest in the community around you, if you have a curiosity and lifelong love of learning, and you believe in living life to the fullest – come join us.