The lack of available workers has impacted IT around the world. The pandemic has accelerated digital transformation; however, there aren't enough skilled workers to support this shift. With employees still quitting in droves amidst the ongoing "Great Resignation," companies are forced to find new ways to leverage emerging technology.
In one Gartner study, 64% of IT executives cite talent shortages as the most significant barrier to adopting emerging technology, compared with only 4% in 2020. In order to adapt in a post-Covid, post–"Great Resignation" world, companies need to adjust their recruitment strategies. They need to seek alternative business models, such as data management service providers, to help implement newer technology.
The State of the IT Talent Gap
The so-called IT "talent gap" is a growing concern for employers: as the global demand for IT professionals increases, the supply of skilled IT workers is declining. According to the Bureau of Labor Statistics February 2022 Labor Review, the IT industry had a worker shortage index of 0.5, with double the job postings versus eligible unemployed workers. The mismatch has created a big problem for businesses.
One culprit behind the disparity is a lack of computer science graduates in the United States. Further compounding the issue, until recently, H-1B visas for experienced IT professionals were restricted, and limited access to qualified employees.
High attrition rates following the depths of Covid-19 only aggravated the situation more. According to ISG, the average attrition rate for the IT industry is above 21%. Post-Covid, many employees who experienced the work-life benefits of flexible, remote jobs are looking for jobs that will continue this newfound balance—they want better perks, more flexibility, and higher pay.
In a job seekers market, employees have the upper hand when it comes to negotiations while companies face stiff competition in attracting employees and need to spend a lot of money to recruit and retain top talent. Unfortunately, not every business can meet these demands.
Data Management Service Providers: Bridging the IT Talent Gap
Businesses today are increasingly turning to a different solution to manage their internal IT systems: managed service providers.
Managed IT solutions refer to third-party firms that provide around-the-clock systems monitoring. Additionally, these companies also provide proactive support and troubleshooting, and repair of issues.
Data management providers act as a partner for your in-house team. The third-party agency becomes more familiar with your company over time; as a result, your provider develops a vested interest in helping your business grow.
Hiring a data management company comes with several benefits, like cost savings, agility, and a reinvigorated ability to focus on innovation. Let's look closer at some of the perks of partnering with data management service providers.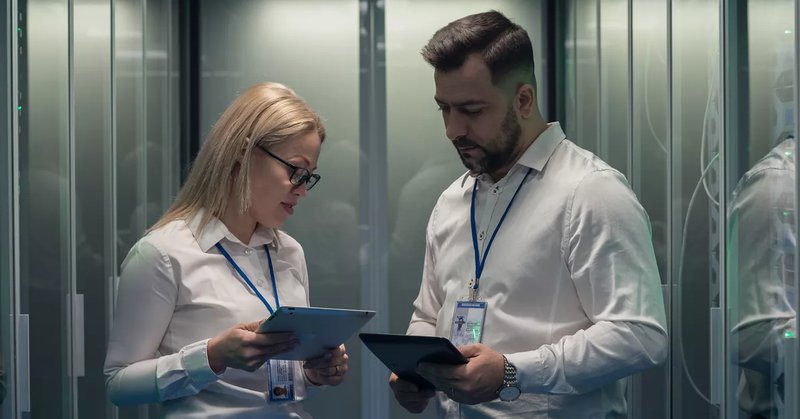 Access to Data Management Specialists and Experts
Hiring an internal IT team is expensive and time-consuming. Meanwhile, a data management provider can provide specialized services to fill in any gaps in the team's expertise. Additionally, third-party providers can also help attract, retain and develop data engineers.
With data management services providers, companies get:
Around-The-Clock Support From Experts. Managed IT services use remote monitoring technology, which gives them real-time alerts on system performance day and night. With this information, the team can correct issues before they impact the business.
Improved System Security. Providers have standards established to help maintain business continuity. With managed services, a company's data architecture and apps are hosted remotely—usually in a virtual server environment. These facilities follow international standards for security and control.
Better Control over Regulator Compliance Requirements. Compliance plays a crucial role in avoiding fines from regulatory agencies. Managed IT services lift the burden of compliance: your provider can ensure adherence to national (and international) rules and regulations.
Data Management Service Providers Enable Cost-Effective Growth Through Nearshoring
Data management service providers allow companies to save on costs without sacrificing results, growth, and competitiveness. For example, providers like Hakkoda offer these cost savings by leveraging nearshoring in adjacent countries like Costa Rica.
Nearshoring Results in Shorter Development Times
Time to market and market position are the key to success. Using external partners gives companies the resources needed to shorten development times. This means companies will start earning money quickly and benefit from a faster ROI.
Hiring Part-Time vs. Full-Time Staff
With nearshoring staff augmentation, companies can hire part-time developers instead of full-time employees. A good nearshore staff will serve as an extension of your existing team—and there is no need to keep them long-term if they aren't needed.
Save Money Through Efficient Communication
Project delays translate to wasted money because companies pay for idle developer time as the team waits on other resources. Nearshoring puts developers in closer time zones, enabling the team to collaborate to resolve issues more quickly.
Data Management Service Providers Enable Better Productivity, Scalability, and Agility
Companies can offload equipment sourcing and hiring to a third-party provider. That way, organizations can scale faster and adjust to market opportunities more efficiently.
Managed services can help an IT organization move from reactive incident management to proactive problem avoidance, as a nearshoring team provides comprehensive 24/7 disaster recovery for business-critical applications and services. By handing over nonessential and supervisory tasks, the internal team can focus on core processes and business agility.
Hakkoda: Your Next Data Management Service Provider
The IT talent gap has many organizations struggling to find digital transformation strategies that meet the moment. Companies will need to explore alternative methods to staff their teams for these projects—and data management service providers like Hakkoda present an answer.
Hakkoda helps companies scale their teams on demand. The company embraces a subscription model that works the way the cloud works, providing cost savings without sacrificing results.
Are you ready to power your digital transformation—and let your team get back to focusing on what they do best? Reach out to Hakkoda today to learn more.